My Book

"Battling for your mate's soul isn't for Cowards"

Women, are you in an unequally-yoked marriage? Are you tired of attending church alone?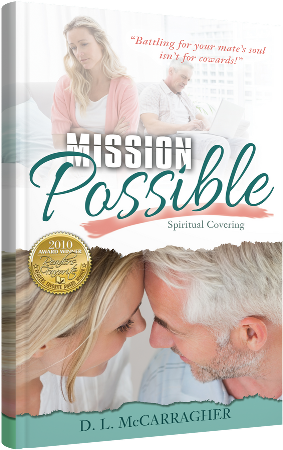 Do you yearn for a relationship with your husband that's spiritually satisfying?
You can influence your home for Christ even within a spiritually mismatched marriage.
Your mission, if you choose to accept it, is to stand in the gap for your mate's soul. Mission Possible is a powerful toolfor any woman who is married to a man who does not share her passion for Jesus. Every woman knows someone who is struggling with this in their marriage.
Join other women in the knowledge that God has a perfect plan of unity for you and your spouse. At just 80 pages this short book is an "easy read", but has much to say. You will refer back to it over and over again...
This "life changing" book is one you will not want to put down... The "mission" is one in which you, the reader, will join one woman's quest to reach her husband for Christ.
[Excerpt from Chapter 1 – You've Embraced Christ – Now What?]
"Remember that 'the battle is the Lord's' (I Samuel 17:47) and earnestly give the salvation of your mate to God in prayer. Early on in your conversion it seems easier to be hopeful concerning your husband's salvation. You will need an added measure of faith as the years go by"